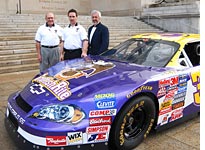 After such illustrious Nascar sponsors as Skoal, Copenhagen and Viagra, the illuminati-loving Scottish Rite of the Freemasons are now sponsoring a race car (of the type that only turns left). It turns out that the Masons were able to forego the usual multi-million dollar sponsorship fee in exchange for some mysterious promise of access to the secret society's members. Slate's reporter asked the race team's owner why he went with the Masons:

I called Joe Hill, head of public relations for Brian

Conz's

racing team, and asked him to explain how he expected to make up this missing money. What is the team getting from the Scottish Rite in lieu of all that cash? "We're aligning ourselves with a dynamic, worldwide organization. We expect access and introduction to their members, who will assist us in meeting executive-level corporate leaders interested in getting involved with racing." Presumably, these rich and important men (because there are no female Masons, after all) will prove useful in sponsoring race teams down the line.
In my opinion this proves the conspiracy!